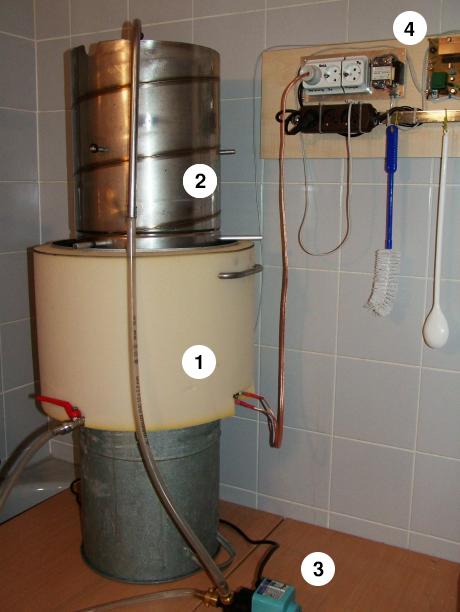 Braukessel+Sudpfanne Brewing Kettle
(ø400mm, H:400mm, ~ 50 Liters)
Malzrohr Malt tube
(ø300mm, H:400mm)
Umwälzpumpe Circulation Pump
Elektronische Steuerung Electronic Control
Meine selbst gebaute Heim-Brauanlage:
Der Braukessel (1) ist aus Edelstahl. Er dient während des gesamten Brauvorganges nicht nur als Behälter für die Würze, sondern auch als Aufheizkammer und danach als Sudpfanne. - Multifunktional!

Das Malzrohr (2) aus Edelstahl hat einen Siebboden und wird mit geschroteter Malz befüllt.

Die Pumpe (3) saugt die Würze am Boden des Braukessels (1) ab und fördert sie oben in das Malzrohr (2). Von dort fließt sie durch die Malz und den Siebboden wieder in den Braukessel (1).

Die selbst gebaute Steuerung (4) kontrolliert den gesamten Brauvorgang. Sie regelt die Temperatur, hält die Zeiten ein, und schaltet auch die Pumpe zumautomatischen Abläutern aus.



---
My self built Home Brewing System:
The Brewing Kettle (1) is made of stainless steel. It holds not only the wort during the whole brewing process, but it also is the "heating chamber" and later used for boiling the wort. - Multi-functional.

The Malt Tube (2) is also made of stainless steel. It has a sieve-bottom. Here the granulated malt is filled in.

The pump (3) transports wort from the Brewing Kettle up to the Malt Tube. From there it flows back through the malt into the Brewing Kettle.

My self built Electronic Control (4) regulates the temperature over the whole brewing process. It also controls the pump for automized lautering by switching the pump off at the end of the brewing process.