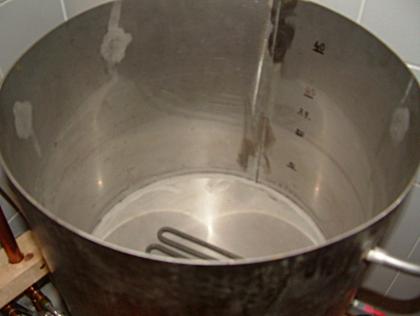 Braukessel+Sudpfanne Brewing Kettle
Durchmesser/Diameter: ø400mm
Höhe/Height: 400mm
Inhalt/Content: ~ 50 Liters
Heizung/Heating: 2800 W/240V
Abbildung ohne Isolierung / Photo without thermal insulation
Der Braukessel ist aus Edelstahl gefertigt und hat knapp über dem Boden eine Heizschlange (2800W/240V) durch die Seitenwand eingebaut. Solche Heizschlangen werden in Waschmaschinen verwendet und haben eine sehr hohe Leistung.
Ein ø12mm Rohrstutzen mit Kugelhahn und 1/2"-Nippel erlaubt das Anschließen der Pumpe oder des Gegenstrom-Kühlers.

Dieser Behälter enthält während des gesamten Brauvorganges die Würze. Während des Brauens dient er dem Erwärmen der Würze, nach dem Brauen wird er als Sudpfanne zum Kochen der Würze verwendet.



---
The Brewing Kettle is made of stainless steel. Close to its bottom an electric heating (2800W/240V) is inserted from the side. Such heaters are usual in cloth washing machines and have very high power dissipation.
A ø12mm tube is welded into the front side of the Brewing Kettle and can be closed with a ball valve. An 1/2" nipple allows to connect there the pump and - after boiling the wort - my self built Counter Flow Chiller.

This kettle contains the wort during the whole brewing process. During the brewing process it acts as an external heater, after brewing it is used for boiling the wort.