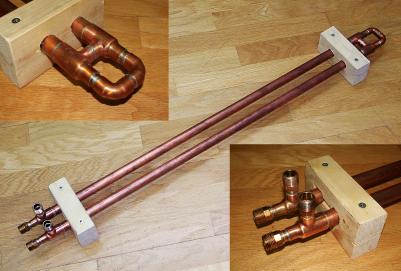 Gegenstrom-Kühler Counter Flow Chiller
Länge/Length: 1m
Wirklänge/Active length: 2m
Außenrohr/Outer tube: ø22mm x 1
Innenrohr/Inner tube: ø15mm x 1
Der Gegenstromkühler ist aus Kupferrohren und speziellen Kupfer-Fittings (22-15-15) gefertigt. Es wurde halbhartes Cu-Rohr in unterschiedlichen Durchmessern verwendet. Aus reinigungstechnischen Gründen muß der Kühler so angeschlossen sein, daß der Zwischenraum der beiden Rohre mit Kaltwasser durchflossen wird, das innere Rohr mit der Würze. Wichtig für eine optimale Kühlleistung ist, daß die beiden Strömungsrichtungen entgegengesetzt sind.

Der abgebildete Kühler ist in der Lage, kochende Würze in einem Durchlauf auf 22°C abzukühlen, wenn diese langsam durchläuft.



---
This self built Counter Flow Chiller is built of copper tubes and special copper fittings (22-15-15). For easier cleaning, the cooler has to be connected in a way that cooling water is floating between the concentric tubes, while the wort is running through the inner tube. For optimal chilling efficiency, cooling water and wort must run in different directions.

This chiller is able to cool boiling wort in one pass down to 22°C, if the wort is running slowly.