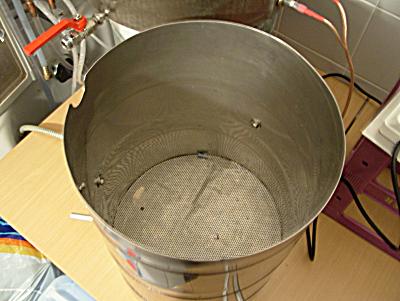 Malzrohr Malt Tube
Durchmesser/Diameter: ø300mm
Höhe/Height: 400mm

Das Malzrohr ist aus Edelstahl gefertigt und hat knapp über dem Boden eine Siebplatte eingebaut. Diese besteht aus einem industriell hergestellten Edelstahlblech mit tausenden Löchern mit ø1mm. Das Sieb liegt auf einer eingewalzen Sicke und kann zur Reinigung leicht entnommen werden.

Das Malzrohr sitzt mit seinen seitlichen Füßen am oberen Rand des Braukessels, damit die Würze in diesen zurück laufen kann. (Siehe "Gesamtansicht" im Menü.)

Die geschrotete Malz wird in dieses Malzrohr gefüllt und von oben nach unten mit Brauwasser/Würze durchflossen. Das Ergebnis ist eine exzellente Ausbeute der Malz und ein besonders einfaches Abläutern, weil man nur die Umwälzpumpe auszuschalten braucht.



---
The Malt Tube is made of stainless steel. Close to its bottom a sieve, made of stainless steel with thousands of ø1mm holes, is inserted. (This is a commercial, industrial plate). This sieve is sitting on a surrounding notch and can be easily removed for cleaning.

With its three feet mounted on its side close to the lower end, the Malt Tube is standing on top of the Brewing Kettle to allow the wort flowing back into the BT. (See "Gesamtansicht" in the left menu.)

Granulated Malt is filled into this tube. The wort is permanently flowing downwards through the malt and dripples back into the Brewing Kettle. This results in good extraction and easy lautering by simply switching the circulation pump off.