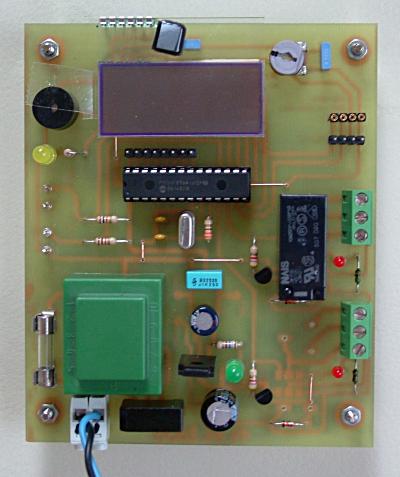 (4) Elektronische Steuerung Electronic Control
Mikrocontroller: PIC 16F876 (Microchip, @ 20MHz)
Alphanumeric Display: 3 x 12 Zeichen/Chars
Temperatursensor/Temperature Sensor: Connector 4-Pin




Temperatursensor Temperature Sensor
Temperaturbereich/Temperature range: -50...+150°C
Wasserdicht vergossen in Epoxid-Harz / Sealed waterproof in epoxide


Die Elektronische Steuerung ist eine Eigenentwicklung und verwendet einen leistungsstarken Microcontroller von Microchip. Die Abbildung zeigt eine frühe Version der Platine, die sich jedoch nicht wesentlich verändert hat. An den Anschluß rechts oben (4-Pin) wird der wasserdicht vergossene Temperatursensor angesteckt.
Die Steuerung wurde von mir schon sehr früh entwickelt, um nicht stundenlang daneben stehen und den Brauprozess manuell überwachen zu müssen. - Funktioniert großartig!

Das Programm erlaubt das Voreinstellen eines Brauprofiles mit vier Temperaturen und Zeiten. Der Brauvorgang läuft vollautomatisch ab, wobei die eingestellten Temperaturen auf 0,5°C genau mit durch SPWM¹ reduzierbarer Heizleistung gehalten werden, um ein Anbrennen der Würze zu vermeiden. Auch die Pumpe wird gesteuert, um automatisch abläutern zu können.

Auch ein Programmteil für das automatische Kochen der Würze wurde integriert.

¹ Slow PWM - langsame Pulsweitenmudulation.


---
My self developed Electronic Control uses a powerful microcontroller from Microchip. The photo shows an earlier version of my development, but it has noch changed very much. The temperature sensor, sealed into a plastic tube, is connected to the 4-pin connector to the upper right of the board.
I started very soon to develop this electronic control to free me from standing stupidly for hours besides the brewing machinery and controlling everything by hands. - Works great!

The program currently allows to enter a "Brewing Protocol" with four stages of temperatures and times. The whole brewing process runs unattended. It keeps the temperatures with a precision of 0.5°C and also takes care about the resting times. It further supports SPWM¹ to reduce heating power to prevent the wort from caramellisation on the heater's surface. It also turns the pump off at the end of brewing for automated lautering.

Also, an automized boiling of the wort is integrated into the software.

¹ SPWM = Slow Pulsewidth Modulation.