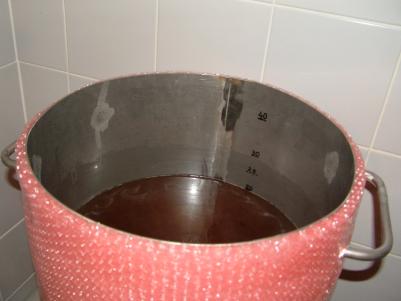 Würze kochen Boiling the wort
Bild zeigt Braukessel mit provisorischer Wärmedämmung
Picture shows Brewing Kettle with temporary insulation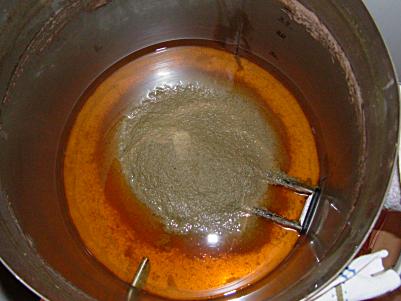 Ein Blick in den fast leeren Braukessel
Die Würze ist klar, im Zentrum befindet sich der Heißtrub (ausgefälltes Eiweiß).
A view into the almost empty Brewing Kettle
The wort is clear and transparent. In the center a deposition of flocculated proteine, named "Heißtrub", is visible.

Das Kochen der Würze erfolgt nach Abnehmen des Malzrohres im selben Braukessel. Der Temperaturfühler ist auf dieser Abbildung nicht eingehängt, die Wärme- isolierung des Braukessels ein Provisorium. Wichtig ist eine möglichst gute Wärmedämmung (Deckel!), da sonst viel Wärme verloren geht, die durch hohe Heizlistung kompensiert werden muß. Dadurch kann die Würze an der Heizung anbrennen und verändert Farbe und Geschmack.

Das Kochen der Würze dauert ungefähr 90 Minuten und wird ebenfalls von der Brausteuerung überwacht. Durch den Zucker tritt ein wallendes Kochen erst bei höherer Temperatur als bei reinem Wasser auf (ca. 102°C). Am Anfang des Kochens wird der Bitterhopfen zugegeben, knapp vor dem Ende der Aromahopfen - abhängig vom jeweiligen Rezept. Der Hopfen wird in einem feinen Netz in die Würze gehängt, um ihn nach dem Kochen entnehmen zu können, da das Bier sonst sehr bitter wird.

Nach dem Kochen wird die fertige Würze nochmals intensiv umgerührt, bis der gesamte Inhalt des Braukessels heftig kreist. Dann muß die Würze ausreichend lang unberührt bleiben. Durch den Kochvorgang und die Gerbstoffe des Hopfens wurde Eiweiß ausgeflockt, das sich durch die Rotation im Zentrum ablagert. (Whirlpool-Effekt, siehe Bild 2 des fast leeren Braukessels.)



---
Boiling the wort happens after removing the Malt Tube in the same Brewing Kettle. The picture doesn't show the temperature sensor and also shows a temporary insulation I used for the first try. It is very important to use a perfect heat insulation (cover!) during the whole cooking. Otherwise a lot of heat gets lost and must be replaced by the heating. This may lead into burned sugar on the heating surface, changing the color and taste.

Boiling the wort has a duration of approximately 90 minutes and is also managed by the Electronic Control. Because of the sugar, the wort starts intensive boiling at a higher temperature as plain water (approx. 102°C). At the beginning, the so named "Bitter Hop" is added, a few minutes before the end the "Aromatic Hop" - both depending on the recipe. It is important to use a fine sieve or net for the hop to be able to remove it at the end of the boiling process, otherwise the beer will be extremely bitter.

After boiling the wort has to be stirred strongly to be set into heavy rotation; then it must be left untouched for some time. During the cooking process, heat and tannic acid from the hop caused floccation of proteine, which moves to the center and deposites there because of of this heavy rotation. This is called the "Whirlpool Effect". (See picture 2 of the almost emptied Brewing Kettle.)