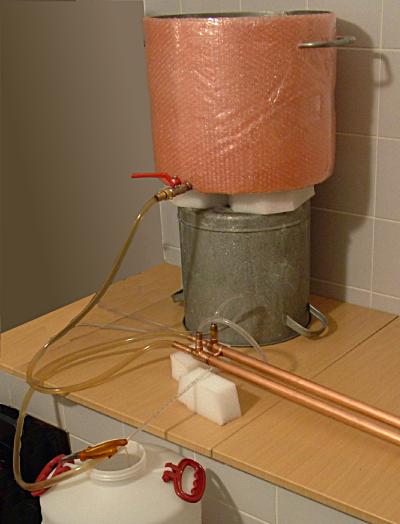 Abkühlen der kochend heißen Würze
Früher Testaufbau des neuen Kühlers.
Cooling the boiling hot wort
This picture was taken while testing of my new counter flow chiller.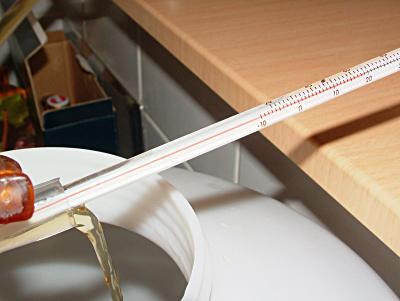 Einlauf der 22°C kühlen Würze in Gärtank
Wort of 22°C running into the fermentation tank
Die Würze wird nun im Gegenstrom-Kühler von ca. 100°C -> 22°C abgekühlt und anschließend gleich in den Gärtank geleitet.

Das Ablassen der Würze muß sehr langsam erfolgen, um keinen Bodensatz mit zu spülen. Somit ist der Kühler mehr als ausreichend dimensioniert um sogleich die gewünschte Auslaßtemperatur zu erhalten.



---
Using the self built Counter Flow Chiller, the wort is cooled down to fermentation temperature (100°C -> 22°C) and directly leaded into the fermentation tank.

To get only the clear wort out of the brewing kettle, the chiller is efficient enough to get immediately the right outlet temperature.