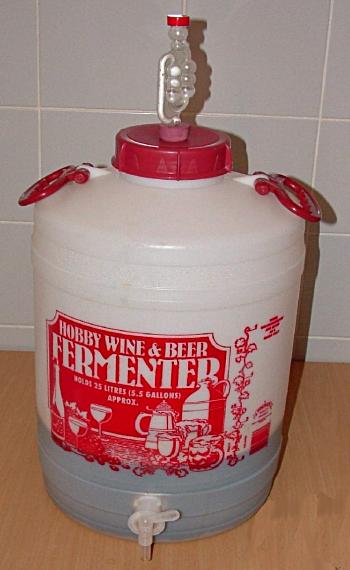 Gärtank 30 Liter Fermentation tank 30 Liters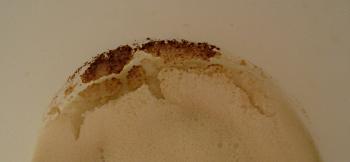 Gären Fermentation
Nach dem Abkühlen der Würze auf 20-22°C wird - streng nach Reinheitsgebot - ein kleiner Teil derselben als Speise abgezweigt und gut gekühlt(!) gelagert. Der im Gärtank verbliebenen Würze wird nun Bierhefe beigemengt und somit die Gärung eingeleitet.

Nach ungefähr 12-24 Stunden hat sich die Hefe so weit vermehrt, daß die Gärung in vollem Gang ist, und auf der Würze bildet sich eine dicke Schaumschicht (Bild 2). Nach 4-7 Tagen ist die Hauptgärung abgeschlossen, was man daran erkennt, daß der Schaum verschwindet und auch keine Blasen mehr in der Gärsyphon zu sehen sind.

Jetzt wird das Jungbier vorsichtig in einen zweiten Behälter umgefüllt, ohne den Bodensatz im Gärtank aufzuwirblen. Dann wird die gekühlt gelagerte Speise hinzu gegeben und beides gut durchmischt. Sodann wird gleich in Flaschen abgefüllt.
Der so hinzugefügte Zucker fürt zu einer neuen Gärung in den Flaschen. Da das CO2 jetzt nicht mehr entweichen kann, bleibt es im Bier gelöst und führt zu einem angenehmen, frischen Geschmack.

In der Regel wird obergärige Hefe verwendet, weil diese bei Raumtemperatur ab Besten arbeitet. Untergäige Hefe erfordert ein permanentes Kühlen auf 5-7°C und somit einen umgebauten Kühlschrank in den der Gärtank passt, was für mich (noch) nicht interessant ist. - Aber wer weiß ...?



---
After chilling the wort to 20-22°C, a little percentage of it is separated and stored cold for later usage. The rest is mixed with some prepared brewer's yeast to initiate fermentation.

After approx. 12-24 hours the supplied yeast has grown and fermentation is in progress. After 4-7 days fermentation is usually finished, visible by no more bubbles passing the syphon.

Now it is time to carefully fill the young beer into another tank but leaving hereby the sediments in the fermentation tank. Afterwards, the stored, chilled wort is added to the young beer and mixed with it. Now this mixture has to be filled into bottles.
This way some new sugar was added to the young beer, causing a new little fermentation inside the bottles coming up. Because the CO2 cannot leave the bottles, it remains inside the beer and gives it the wonderful fresh taste a beer must have.

Usually, a top-fermenting yeast is used, because it works wonderful at room temperature. For bottom-fermenting yeast it is necessary to keep the wort/beer continuously chilled to 5-7°C, requiring a modified refrigerator with built in fermentation tank. This is (currently) of no interest to me. - But never say never ...?